Trex Accents with the rich warmth of wood grain.
Open up a new world of inspiration for your deck project. New Trex Accents
brings you the traditional look and warm feel of natural wood grain. You now
have more ways than ever to build with the enduring beauty of Trex..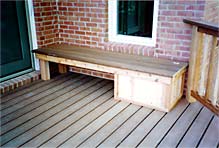 © 2000 Horizon Builders, Inc.
webmaster